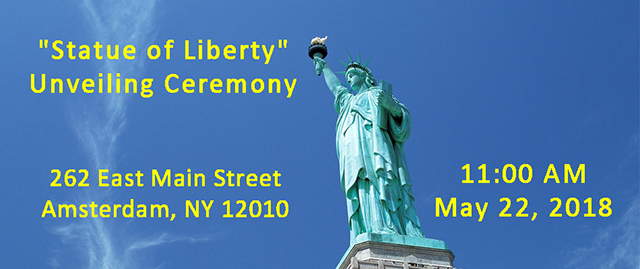 Invitation
We would like to invite you to attend a special "Statue of Liberty" unveiling ceremony in Amsterdam. We would be honored to have you attend this event and witness the unveiling of the new replacement statue. The ceremony will be held this Tuesday, May 22nd, beginning at 11:00 AM at 262 East Main Street, Amsterdam, NY 12010.
As you may know, our community who drives and walks past the replica Statue of Liberty each day, has shown their admiration and support for what the statue represents. Unfortunately, over the years, the statue has suffered from damage by vandals and from vehicles attempting to knock down the statue.
Due to the resilience and perseverance of our community and our organization, we are now happy and excited to announce that we have installed a brand-new replacement liberty statue that we plan to unveil this Tuesday.
We welcome you to join us in celebrating this joyous event as we continue our organization's mission of promoting Human Health, World Peace, and Religious Harmony.
We look forward to hearing from you soon to confirm your attendance.

Tel: (518) 853-1873
Email: sun@wpho.org
contact@guanghuanmizong.info